By Stephanie Sparks, Content Marketing Manager
If you have ever wondered how recruitment process outsourcing (RPO) could benefit your business, then it's important to understand the differences between in-house recruiting and outsourced recruiting from a strategic partner.
Many organizations are curious about what parts of recruiting an RPO provider can support. So in this blog, let's break down how both of these recruiting approaches work and examine how RPO could provide an advantage to your business, especially in a challenging labor market.
What Is In-House Recruiting?
In-house recruiting is an extremely common approach for organizations that want to build a talent acquisition function internally and oversee the entire recruitment process. With in-house recruiting, companies are responsible for sourcing, screening, interviewing, nurturing, and onboarding candidates.
They must manage all key aspects of recruiting, including measuring talent acquisition metrics like number of open requisitions, application source, candidate conversion rate, number of applications per requisition, time-to-fill, quality of candidate, source of hire, DEI, and internal mobility data.
In-house recruiting gives talent acquisition leaders the chance to own recruiting and hiring processes fully, and ensure that the experiences delivered to candidates and hiring initiatives undertaken match the needs of the organization.
While in-house recruiting gives companies considerable control over their hiring process, it also requires them to fully invest time, resources, and money into building an infrastructure that can support the hiring needs of the business. In addition, in-house recruiting can present major challenges when it comes to scaling up or down as the business grows or encounters fluctuations in hiring demand.
What Is Recruitment Process Outsourcing?
Recruitment process outsourcing (RPO) provides a different approach to recruiting. RPO is when an organization outsources or transfers some or all of its recruitment process to an external partner. This can include end-to-end recruitment, project recruitment, front-end recruitment, or recruiter augmentation solutions.
An RPO provider acts as an extension of an organization's talent acquisition team and offers scalable resources to fill open roles quickly and efficiently. The RPO team works directly with the internal HR team, hiring managers, and the business to define recruitment success and executes against agreed upon objectives to achieve successful outcomes, including time-to-fill and quality-of-hire.
Top RPO providers offer scalable recruitment solutions that meet hiring needs on an on-demand basis. And in the case of NXTThing RPO, one of the most strategic ways to approach recruitment process outsourcing is by blending recruiting technology and personal connection to find and hire the right talent for each organization. Leading RPO providers, like NXTThing, offer expertise in finding talent across multiple roles and job families in a variety of industries to help companies better meet their hiring objectives.
Comparing In-House Recruiting to RPO
Let's drill down further on how in-house recruiting compares to RPO in three categories — cost, scalability, and expertise.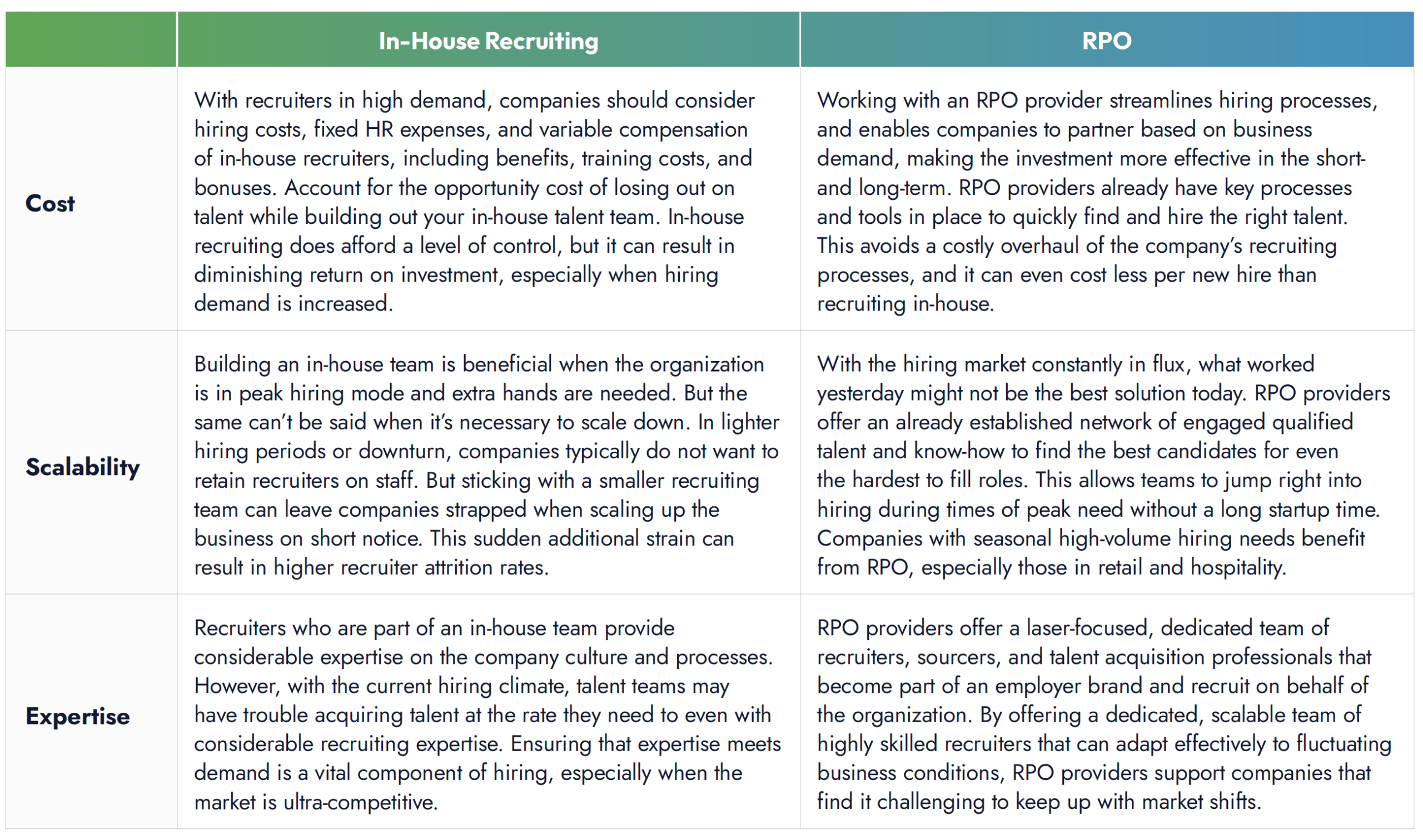 What Are the Key Benefits of RPO?
Before considering whether outsourcing part or all of your recruitment process is the right move for your organization, make sure you understand how RPO can help support your hiring needs:
#1: Improving Speed of Process
Hiring right now is all about speed. Working with a recruitment process outsourcing provider enables faster sourcing and screening, and helps move candidates and hiring managers through the process more quickly and efficiently.
#2: Supporting Stronger Sourcing
RPO providers offer extensive expertise on how to maximize candidate sourcing efforts. This includes optimizing sourcing on LinkedIn and Indeed, and recruiting candidates directly. Working with an RPO provider gives employers access to more tools, is more cost effective, and leads to more impactful results.
#3: Dedicating Focus to the Recruitment Process
Internal talent acquisition teams can easily be interrupted or distracted by other initiatives. RPO providers offer a laser-focused, dedicated team of recruiters, sourcers and hiring professionals that recruit on behalf of your organization and solve major challenges in your hiring process.
 #4: Providing Strategic Market Research and Competitive Intelligence
RPO providers offer a wealth of recruiting data and intelligence that can help organizations determine where they can improve their hiring process. With access to innovative recruitment tools and technology, recruitment process outsourcing can help employers deliver more predictable hiring and better recruiting results.
Go Deeper on What It Means to Move from In-House to RPO
According to Employ data, 47% of companies plan to invest in additional sourcing, including recruitment process outsourcing (RPO), to help them address current challenges they face in the hiring market right now. In addition, 30% of recruiters feel less stress when they have more recruiters or recruiting resources, including a strategic RPO provider or automated sourcing technology.
While RPO is not for everyone, a growing number of companies are moving toward RPO to ensure they stay competitive in a challenging job market. Find out more on what it means to partner with a strategic RPO provider. Download our latest eBook to understand key differences between in-house recruiting and RPO, the pillars of a solid recruiting process, and how to select the right RPO partner for you.