There are recruitment process outsourcing (RPO) staffing agencies that provide short-term support to fill full- and part-time job vacancies — a decent resource for one-off hiring needs.
And then there are full-service RPO firms that can handle most, if not all, of the end-to-end recruiting process (and, if so desired, aid with long-term workforce planning) for employers on an ongoing basis to help them scale and grow quickly and efficiently and support their in-house recruiters
Your recruitment staff may have a strong talent acquisition process in place to attract and convert quality candidates. But, there are invariably times when your TA specialists (and even hiring managers) need a helping hand to identify, engage, advance, and employ top talent.
That's where dedicated RPO recruiters — ones with vast experience in helping orgs across industries and of varying sizes — fill niche roles and implement high-volume hiring strategies.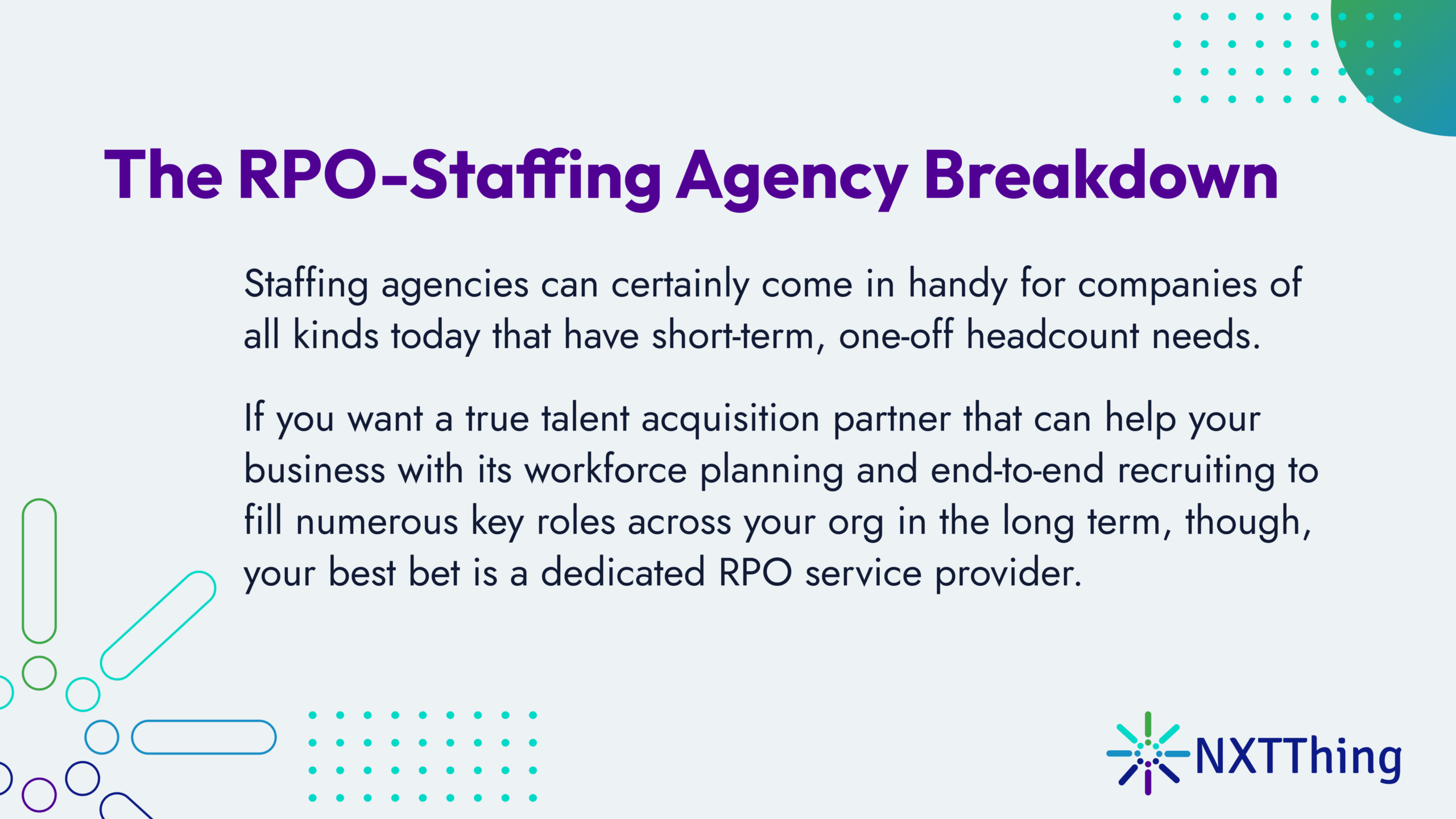 The RPO-staffing agencies breakdown
Before diving into the benefits of RPO, let's cover the key differences between RPO service providers that act as true talent acquisition partners and traditional staffing agencies.
RPO providers
A recruitment process outsourcing firm is an increasingly popular kind of business process outsourcing use case for employers today — particularly enterprises with sizable headcount growth goals.
The top RPOs use leading recruiting technology and have a wealth of TA expertise and experience, which helps them help companies of all kinds fill hourly, seasonal, and permanent roles.
An RPO provider is usually contracted on a cost-per-hire basis and often offers on-demand services that go outside the scope of standard recruitment work (e.g., offering reports on recent industry hiring trends and internal hiring and retention progress, developing hiring strategies for specific business units or locations).
Staffing agencies
The other outsourced recruiting business model is that of the staffing recruitment agency, which focuses mostly on filling open roles with temporary or contract workers on an ad-hoc basis for employers.
There's nothing wrong with this model whatsoever. It's simply that many business leaders fail to understand that traditional staffing agencies don't offer the depth and breadth of services that premier RPO firms do.
They're assigned hiring tasks, complete them, then go on to the next client.
It's more of a churn-and-burn approach (think pushy restaurant servers wanting to take your order right as your sit to get you in and out quickly) that can sometimes lead to low-quality hires, given the recruiters assigned to fill roles for companies often are working with several clients simultaneously.
The RPO-staffing agency debate: Which is more ideal for your organization today?
So, as you and other hiring stakeholders at your business ponder your hiring needs for the foreseeable future and gauge the bandwidth of your in-house talent acquisition team, ask yourselves:
Which kind of external recruiting assistance does our org need?
To help you settle the RPO-staffing agency deliberations, consider what leading RPOs offer companies today.
Talent acquisition strategies tailored to your needs
Customized recruitment strategies are the core of any RPO partnership. An RPO partner will work closely with your talent acquisition team to create tailored recruitment solutions, ensuring that they align with your company's goals.
It's vital to have a custom recruitment strategy for your business to ensure you (read: your RPO) find the right talent that fits your org's unique needs — whether it's due to future product development or entering new markets.
Benefits associated with bespoke recruitment strategies from RPO providers include:
Strengthened employer brand: A robust recruitment strategy that aligns with your org's values and goals will better represent your employer brand in the market.
Improved candidate quality: Customized recruitment efforts focus on targeting the candidates with the right skills, experience, and cultural fit for your organization.
Better hiring decisions: With a streamlined and targeted recruitment process in place, your company is better equipped to make data-driven hiring decisions.
Expertise in hiring for niche roles and industries
Partnering with an RPO provider brings targeted expertise in niche roles and industries that are essential for your company's growth and success. It is crucial to recognize the difference between RPO and staffing agencies:
While staffing agencies concentrate on filling temporary and permanent positions across a variety of industries, an RPO provider focuses on designing and building an entire recruitment process that supports your business.
By having specialized knowledge in niche positions and business sectors, RPO providers possess a deeper understanding of trends in your industry, the availability of candidates, and the required skills, certifications, and qualifications. They can then source, interview, and present candidates who are experts in their given fields and strong fits for given roles.
A concerted focus on driving down your time to fill
An RPO partner can significantly reduce the time it takes to fill open positions by leveraging their extensive talent pipelines and recruitment expertise. Along with the cost savings, shorter time-to-fill rates allow your business to secure top talent ahead of your competitors. Filling vacancies quickly also minimizes disruptions in your workforce and allows your business to maintain optimal productivity levels.
Recruiters working hard to provide a strong CX
A high-quality candidate experience is essential to secure the best talent in the market, and an RPO partnership can significantly enhance this aspect of your recruitment process. The top recruitment process outsourcing providers specialize in creating positive and engaging candidate experiences, bolstering your employer brand, and increasing candidate interest.
Decreased hiring costs (and time saved for TA)
One of the most significant advantages of working with an RPO provider is the potential for cost savings.
Recruitment costs can add up quickly, from posting job ads, screening resumes, and conducting interviews or assessments, as well as the time it takes for human resource professionals to undertake these tasks.
RPO providers offer expertise in streamlining and optimizing the recruiting process, thereby reducing the overall cost per hire. Additionally, given their extensive industry knowledge and networks, RPO partners can target talent pools more effectively, leading to reduced time-to-fill rates.
A scalable, flexible, and adaptable recruiting model
Recruitment demands can vary depending on the growth trajectory and evolving needs of a company. RPO providers offer tailor-made solutions, giving orgs like yours the flexibility to scale their recruitment efforts up or down as the situation demands.
Unlike traditional staffing agencies, which often take a one-size-fits-all approach, RPO providers invest time in understanding a company's unique requirements and adjusting recruitment strategies accordingly.
This scalability ensures that companies receive the precise support they need when they need it, preventing unnecessary expenses and ensuring timely fulfillment of job openings — something staffing firms just don't offer.
Speak with one of our experienced recruiting experts today to learn all about NXTThing RPO services and how our dedicated team of experts can augment your hourly, seasonal, or salaried hiring needs.