Part 1 of the Employment Law Thought Leadership Series by Employ
By David Hollady, CIPP/E, CIPM, Vice President of Legal & Data Protection Officer, Employ
---
The information provided here does not, and is not intended to, constitute legal advice. All information, content, and materials provided here are for general informational purposes only.
---
As the world of work continues to undergo rapid transformation, employees are demanding more transparency in pay, and some lawmakers are moving to make it a legal requirement. Today, the conversation around pay transparency has evolved drastically from even just a few years ago. It has become a vital aspect of a thriving work culture that values open communication and an equitable work environment for employees.
It is no longer acceptable for companies to hide behind closed doors regarding salary information, especially as the demand for pay transparency is only increasing among candidates and employees. However, there are many businesses that still need to learn how to navigate this new age of salary transparency effectively.
As the movement toward pay transparency continues gaining momentum, organizations need to be fully aware of new legal aspects concerning pay and other compensation-related concerns to attract top talent and provide a fair and equitable work environment.
Employers need to embrace pay transparency fully to stay competitive and relevant in the labor market.
In this first part of the Employment Law Thought Leadership Series by Employ, we will explore various aspects of pay transparency, examine general legal considerations that companies should be aware of, identify how employers can create a fair and equitable work environment for their workers, and examine high-level benefits of pay transparency for applicants, current employees, and employers.
The New Rules in Pay Transparency
While the phrase 'pay transparency' can describe an entire category of varying requirements, guidelines, and legalities around compensation, the term most often refers to how organizations communicate the salary range for a given role. Job seekers and employees alike want to know, plainly and right up front, what the compensation is for a position.
A recent study showed nearly all (98%) of workers believe companies should put salary ranges in their job postings. While that might seem like an incredibly high number, almost as staggering is that more than half (53%) of the same workers surveyed would not apply for a job if it did not contain a salary range in the job posting. P
Pay transparency is particularly relevant for women and people of color who are often paid less than their male and white counterparts for the same job. Companies recognize that creating transparent pay structures benefits the employer brand, attracting top talent, and promoting pay equity nationwide.
In addition to the overwhelming majority of workers who want to see pay ranges become more transparent, recent legislation has made a salary range in a job description a non-negotiable detail. In some states, organizations must file annual reports showing their company wages separated by gender, race, age, and other applicable categories. This level of reporting ensures transparency between companies and employees as well as the state Department of Labor.
Updated State-by-State Pay Transparency Laws
More than a handful of states have recently enacted their own versions of pay range transparency laws, meaning 25% of workers in the U.S. currently live in areas where employers are required to share pay ranges for most positions.
Here's an overview of the states with recent changes in pay range requirements:
California: As of Jan. 1, 2023, employers in California with 15 or more employees must disclose a pay range in every job posting. This law also applies to any organization employing even a single California resident, making the employer legally required to post pay ranges on all open job postings.

Additionally, if an applicant requests, all California employers must provide an applicant with the pay scale for the position they're applying for, even before the initial interview. The same applies to current employees, who must be provided a pay range for their current role or any role they are transferred or promoted to.
Colorado: Employers in the state of Colorado are proactively required to post salary ranges on all public job postings, including any additional pay types, such as commission or bonuses. They're also required to provide a general description of any and all employment benefits offered to their employees.
Connecticut: While posting a pay range publicly is not required, employers must provide a pay range to an applicant (internal or external) upon request or when an offer is made.
Maryland: Upon request, all employers must provide an applicant with the pay range for the job for which the applicant is applying.
Nevada: All employers in the state of Nevada must provide the rate or salary range for a position to any applicant who has completed a job interview for that role. Further, they must provide the rate or salary range for a new position to any current employee who has applied for a promotion or transfer, completed the interview for said position, been offered the role, or simply requested the salary range.
Jersey City, New Jersey: Specific to employers with five or more employees, those who provide notice of employment opportunities (using any print or digital media circulating within the city) must disclose a minimum and maximum salary or hourly rate, including benefits, within the posting.
New York: Specifically New York City, Ithaca, and Westchester County Employers with four or more employees must state the minimum and maximum annual salary or hourly wage for a position when advertising the role, whether to external candidates or for internal candidates as a promotion or transfer opportunity.
Cincinnati and Toledo, Ohio: Employers within these two cities who employ 15 or more employees must provide, upon request, the pay scale for a position to an applicant who has received a conditional offer of employment.
Rhode Island: Upon request, all employers must provide the wage range for the position for which the applicant is applying. Additionally, they must provide current employees with the wage range for their position at the time of hire, when they move to a new position, and upon request.
Washington: As it pertains to employers with 15 or more employees, each job posting for each position requires disclosure of the wage scale or salary range, as well as a general description of all benefits and other compensation.
Broaching Wage Discussions In the Workplace
With greater transparency into salary ranges, employers may wonder if pay can be discussed among employees within the organization. To put it plainly, The National Labor Relations Act (NLRA) in the United States protects the rights of employees to talk about their salaries with their coworkers.
HR and business leaders should be prepared to answer some tough questions that may arise:
What is the organization's policy and philosophy surrounding pay?
How are pay ranges and an employee's ultimate salary determined?
Are current pay ranges competitive with the open market, and/or are there geographical considerations?
Has the company recently evaluated its compensation structure to identify and resolve unjustified pay differentials?
The rise of pay transparency in organizations today means that employees are more likely to discuss their salaries. With legal protections in place for them to do so, it's important that HR teams can answer these tough questions and ensure their compensation strategy is well defined and visible to employees and job seekers alike.
Advantages of Pay Transparency for Applicants & Employees
When salary information is presented clearly to job seekers, those candidates who convert into applicants will be more aligned to the salary your company offers for the position. Operationally, this streamlines your recruiting process and ensures there are no surprises when you get to the offer stage.
Other benefits of aligning applicants to your salary range early on in the recruiting process include:
Speeding time to hire
Providing a smooth candidate experience
Creating a seamless offer generation process
Avoiding unnecessary and costly salary negotiations
Decreasing bottlenecks and delays
Ensuring applicants do not drop out of the process
The impact of pay transparency on existing employees is also overwhelmingly positive. When employers provide more detailed compensation information, employees can evaluate their worth more accurately and negotiate a better salary or promotion.
Making compensation structures visible tells current workers what they should expect to receive and encourages them to speak up if they are not currently in that range. This leads to more open, transparent conversations within the organization about pay.
It also helps ensure workers are paid fairly, regardless of race, gender, age, familial status, neurodiversity, or other individual characteristics. For example, with women making just 82% of what men earn for the same position, according to a Pew Research Center analysis, pay transparency can help decrease the pay gap that exists between genders.
Additional benefits of proactively disclosing pay ranges to your existing workforce include:
Fostering greater trust and loyalty among workers
Improving productivity, engagement, and collaboration
Boosting employee retention rates
Aligning performance management to compensation strategies
Encouraging a culture of open, honest, two-way communication
When pay transparency is a priority for both employees and candidates, you can expect current workers to stay longer and job seekers to stay engaged in the recruitment process. Let's take a look now at advantages for employers that do practice pay transparency.
Benefits of Pay Transparency for Employers
When discussing employee desire for pay transparency alongside legislation now requiring compliance, it's easy to assume the benefits are one-sided. Luckily for employers, this simply isn't true. Aside from complying with the abovementioned laws, pay transparency improves an employer's ability to attract and retain top talent, bolstering their employer brand in the market.
Organizations can use transparent pay structures as leverage to recruit and retain quality talent, showing candidates and employees they are committed to equity and transparency in the workplace.
Engaging in open, honest conversations and pay practices around wage transparency also helps create a more positive work environment. It fosters greater employee satisfaction and higher morale. Besides, transparency helps organizations identify and address issues, such as pay gaps, inconsistencies, and inequities, leading to better decision-making and more efficient use of resources.
Pay transparency is also shifting toward a matter of ethical responsibility and strategic business practice. By sharing pay information with workers, employers can attract top talent and give job seekers valuable insight into the company's culture and values. Companies that do not embrace pay transparency can lose out on top talent, particularly among millennials and Gen Z workers. These new generations of job seekers prioritize company culture and ethical practices, in which transparency is a critical aspect to both.
It's worth mentioning again that including pay ranges in your job description means applicants are more likely to move forward with your application process. Leaving it out, even when you're not legally required to include it, could cost you top talent.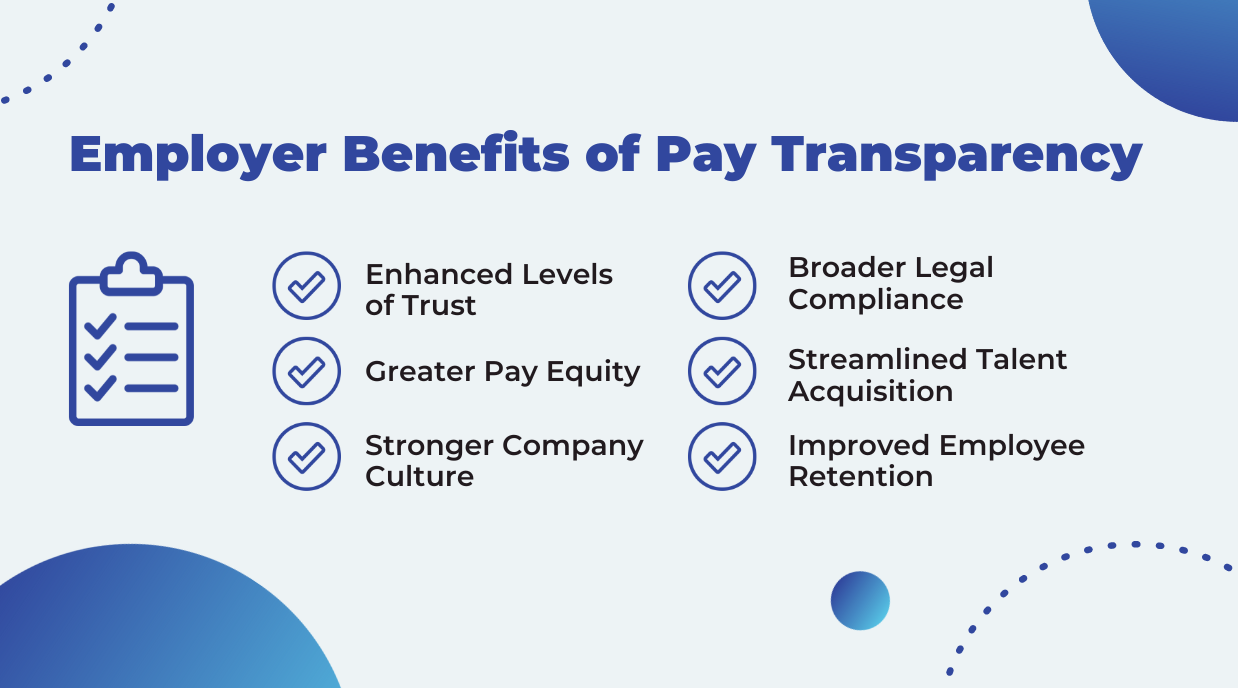 Work Toward Greater Pay Transparency
With increasing legal regulations and growing awareness of the benefits of transparent pay structures, companies should actively implement pay transparency. This will empower your business to promote a healthy workplace culture, attract top talent, and create a level playing field for all workers.
The shift towards greater pay transparency in the United States is a positive step towards fair pay and a more equitable society. Employers must take proactive steps to ensure that they comply with these laws and continue to advocate for transparency in the workplace.
By openly sharing compensation data, companies of all sizes can identify and address pay disparities that may exist within the workplace. This helps ensure each person is paid fairly for the work they do, regardless of their background or unique characteristics.
As the landscape surrounding HR and employment law continues to evolve, it's crucial for organizations to stay abreast of developments to manage compliance risks proactively. By coming out on the side of pay transparency, companies can position themselves as leaders in the ongoing effort to create a more equitable workforce for the future.
Subscribe to our blog for more informative content on emerging legal changes in HR and talent acquisition, and stay tuned each month for our Employment Law Thought Leadership Series.
---
The information provided here does not, and is not intended to, constitute legal advice. All information, content, and materials provided here are for general informational purposes only.
---