As we look back on 2022, and gear up for 2023, it's important to celebrate all that was achieved last year. One of the most exciting accomplishments was the recognition Follett Higher Education and NXTThing RPO received for winning a 2022 HRO Today Association Award.
Follett and NXTThing won the award for Business Partnership Excellence | Small/Mid-Market in the North America region. This prestigious award recognizes a partnership between service provider/consumer; teams or departments within an organization; and/or a collaboration across two businesses that results in a positive outcome from a business, financial, and/or philanthropic standpoint.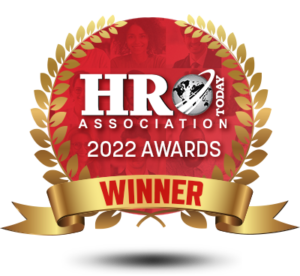 With over one hundred nominations, HRO Today reviewed many compelling and competitive submissions, but the partnership between Follett and NXTThing was truly unmatched.
Highlights of the Follett and NXTThing Partnership
Prior to March 2020, when the pandemic hit, Follett, the nearly 150-year-old educational products and collegiate retail company, had been managing its own hiring for campus retail bookstores on an individual basis. But when an uncertain environment emerged for colleges and universities across the country, Follett knew it needed an RPO partner that could scale recruiting based on need and timing for individual locations, and that could tackle the complexity of hiring for year-end and bi-annual seasonal temporary hiring during its fall and spring rush.

During the fall hiring campaign, NXTThing sourced more than 92,341 applicants, conducted 30,642 phone interviews, and hired more than 6,000 seasonal employees within just eight weeks. By engaging with NXTThing RPO, Follett has saved millions in recruiting costs based on the time required previously of store managers and the significant variability of hiring too many seasonal hires or too few to keep up with demand.
NXTThing RPO has also provided Follett with access to extensive customizable talent data that can better predict the number of hires during peak seasons and save even more on hiring costs now and into the future.
"We are honored to be recognized by HRO Today, with Follett Higher Education, for Excellence in Business Partnership. Working with Follett to collaboratively identify and hire the best talent during their peak seasons has been incredibly rewarding, and is a reflection of the true partnership and aligned goals that we mutually share. Working together at all levels of our organizations has allowed us both to leverage our joint strengths to deliver best in class talent acquisition to the Follett organization."

– Terry Terhark, President, NXTThing RPO
About The HRO Today Association Awards
The HRO Today Association Awards is an annual recognition program that exemplifies the essential work that HR professionals do every day and provides people, teams, partners, and companies an opportunity to share best practices and successes so colleagues, and the industry, can benefit from their experience.
The complete list of winners can be found at: https://www.hrotoday.com/2022-hro-today-association-awards/
Learn What NXTThing RPO Can Do for Your Business
If you are ready to improve your recruiting results, especially in an unprecedented labor market, NXTThing has a customizable solution to adapt to your unique needs. Learn more about our approach to recruitment process outsourcing by speaking with our experts today.